Fairmonts & Zephyrs
|
home




1994 Crown Vic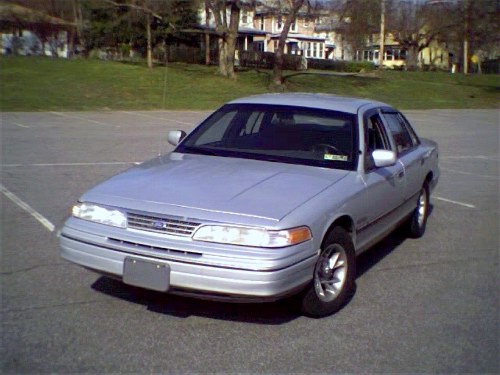 Above is a picture of My 1994 Crown Vic PI.

What I have done to it so far is rims and tires . Tires are 245 60 15 in front and 255 60 15 in rear .
It Has a 4.6 SOHC V8 engine , AODE Auto Trans, 327 gears in the rear.
It is a P71 with full cloth interior , wood trim inside , carpet not rubber mat.
Well the 94 Crown Vic PI has a BAD wrist pin knock. So I bought a rebuidable 4.6 from my old boss at First Class Auto Salvage which is from another Crown Vic PI . Did the tear down at work today . The 4.6's have tiny pistons compared to 5.0's and 5.8's. FUN time for me I love rebuilding engines.
Update on 4.6 rebuild.

Here is an update on 4.6 rebuild heads are good , crank is junk , 3 connecting rods are junk too . Man what a bummer!!!

They had the best prices that I found , Great service too. No question was dumb to them.
Pistons are Probe Forge pistons.
1302-11883-020 - SRS Piston - Ford 4.6/5.4L - 3.572/1.215/2V - Dish Forged Aluminum - Bore=3.572 - Compression Height=1.215 - Wrist Pin=.866 diameter - 2.438" long - Ring Grooves=1.5 1.5 3.0
Sportsman Race Series SRS
SRS Forged Pistons are designed for performance and race applications where a strong but lightweight forged piston is an advantage. SRS pistons are aggressively priced and provide substantial quality advantage over other pistons offered in this arena.
Probe Racing Components, Inc.
Connecting rods are Eagle "H" beam rods with
ARP bolts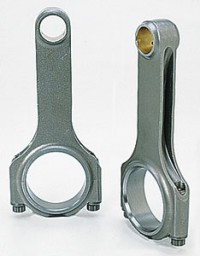 Cams are 204 stage 1 GT cams
Gaskets are all Felpro
As of 08/07/02
Got the rebuilt engine to run.
It seems that when I put it together I did not set timing right.
What a pain in the butt to do timing chains on a 4.6 in the car,
but I did it!!!
Engine runs great , now just have to go through break in .