Fairmonts & Zephyrs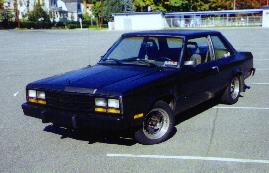 The MEAN MONT IS SOLD
Welcome to the Fairmont and Zephyr Site.
On the following pages, I will tell you some things about FORDS other FOX BODY Cars.
The Picture above is of my 1978 Ford Fairmont.
I am now working on an 1980 Mercury Zephyr.
But I will tell what was done to it in the 15 years that I owned it. The 80 Zephyr will be updated on these pages, as work is done.
If you would like your Mont or Zephyr or Fox Body car pictures posted here just e-mail them to me.
The photo album page may take some time to load.
A Brief History of the Fairmont and Zephyr.
In 1978 during its Diamond Anniversary, Ford introduced a new car to its line replacing the Maverick.
The new car was called Fairmont.
Fairmont styling was similar to the large Fords. Built on a 105.5 inch wheel base, the Fairmont was 193.8 inches long, making it longer than the Maverick but still smaller than the Granada. Base power was the same 140 cubic inch Four as found in the Pinto and Mustang, while engine options were the 200 cubic inch Six block and the 302 cubic inch V-8 and 255 cubic inch V-8.
Good looks, sensible styling and an active promotional campaign gave the new Fairmont an exceptional sales start. With its design heavily influenced by Ford's European styling studios, Ghia of Italy,
The new Fairmont came in four distinctive body styles.
These were a two-door Sedan, four-door Sedan, Station Wagon and a Sports Coupe.
The Sports Coupe did not arrive until the start of the calendar year, and was considered a midyear model. It was given another old Ford name, the Futura Sport Coupe. Closely following other Ford styling, it was no surprise that the new Futura would emulate the Thunderbird, being equipped with a unique front end including quad headlights (which made the car two inches longer than the rest of its family) and a unique roof with a large decorative wrap-over. In 1983, Ford dropped the Fairmont line in order for dealers to place total emphasis on the new LTD. However, it wasn't until 1984 that the Tempo replaced Fairmont on the Ford sales roster.
Wasn't that a great idea. What was Ford Thinking???????